Competition to start on October 12 and run until final four weekend in March
New Hong Kong-based franchise Bay Area Dragons will also play in the Philippine Cup in September
The Bay Area Dragons will begin their East Asia Super League campaign with a game against opponents from the Philippines, with the league releasing its full schedule on Wednesday.
Teams from the B League in Japan, the KBL in Korea and P League in Taiwan will also compete in the inaugural EASL season, which will start on October 12 and run until a final four weekend in March.
Highlights of the early rounds include the match-up between the yet-to-be-decided champions from the Philippines and Anyang KGC from Korea.
The Dragons meanwhile face the runners-up from the Philippines, and new signing Andrew Nicholson, who played in the KBL last year, is ready to show people how good the team can be.
"The Dragons are showcasing Chinese basketball to the world and that is something I'm proud to be a part of," he said. "I know how good Chinese basketball talent is and I can't wait to play alongside my teammates and these coaches. I'm also looking forward to taking on the Seoul SK Knights again with my new club, and I'm pretty sure we're going to stack up well."
Other top players have not been shy about their excitement about being able to go head-to-head with East Asia's elite.
"East Asia Super League is a great platform and I'm very excited to be a part of it. We will do our best to win every single game," Liu Chuanxing, the star big man and China national team centre, said.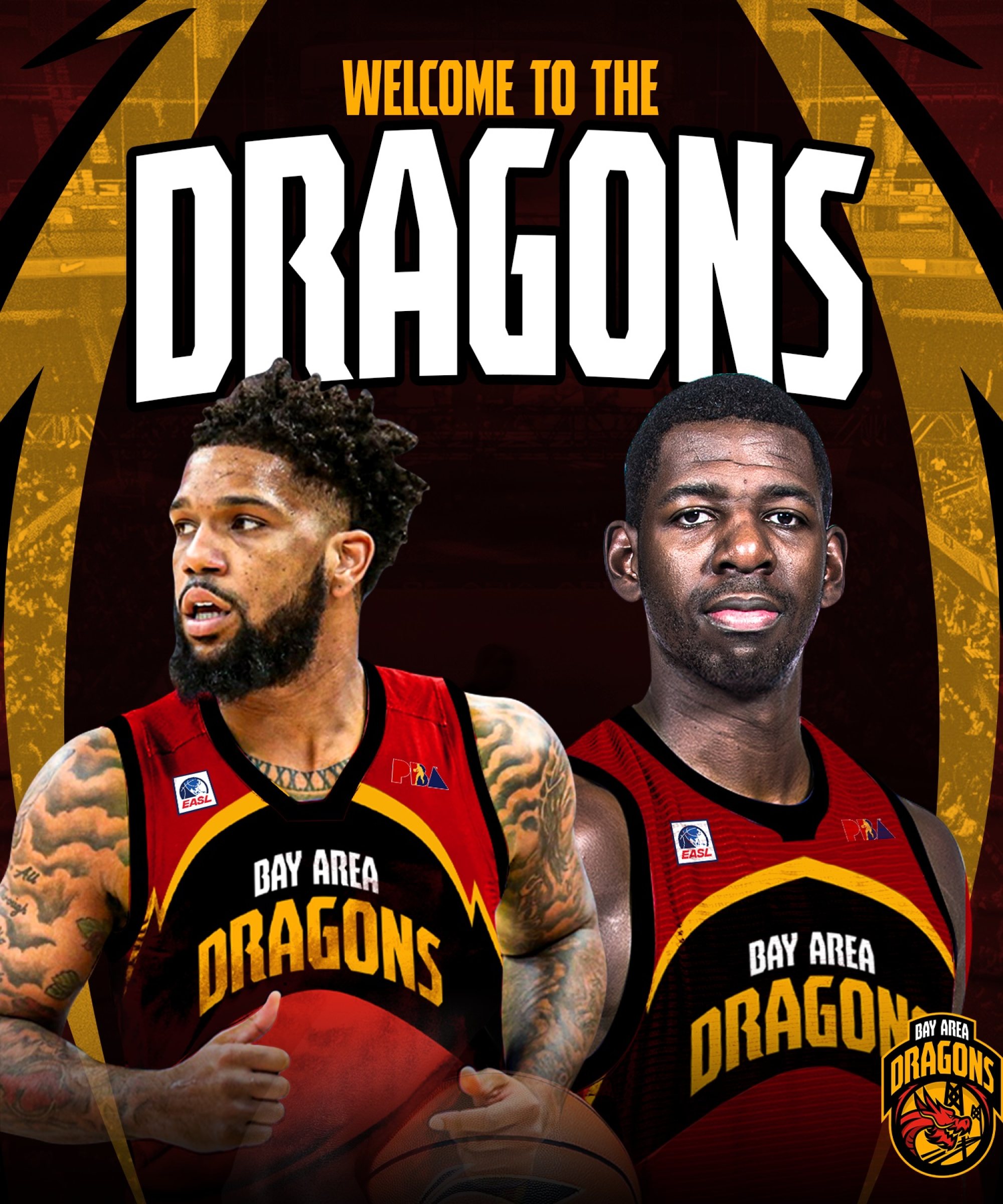 Andrew Nicholson and Myles Powell have joined Bay Area Dragons ahead of the new season. Photo: Bay Area Dragons
In addition to EASL competition, the Bay Area Dragons, who will be based in the Philippines for their first season because of the coronavirus rules governing sport and movement in mainland China and Hong Kong, will also compete in the upcoming PBA Commissioner's Cup tipping off this September.
"Adding in this new club is amazing for the sport and the fans. We can't wait to show them what Filipino basketball is all about," Chris Ross, the guard with San Miguel Beermen, said.
Matt Beyer, the league's CEO, said that his organisation was honoured to be bringing "the best of the best of the region's professional teams together" for the competition.
"Our mission is to be East Asia's premier basketball league, with a vision to be one of the top three leagues globally by 2025 in terms of fan base and commercial revenue," he added.
The region's best includes B League champions Utsunomiya Brex, led by star guard and Japan national team stalwart, Makoto Hiejima.
While the country's runners-up, the Ryukyu Golden Kings, will look to take home another EASL crown, after winning the preseason tournament in 2018.
"First of all, I am very happy to be able to participate in the memorable inaugural East Asia Super League season," Dai Oketani, the Golden Kings' head coach, said. "I'm also grateful to EASL and B League for creating a forum for intense matches against the strongest East Asian teams. Through EASL, I hope to learn about each culture and this will lead to the development of each other's regions.
"We will take on the challenge of EASL as a team representing Okinawa, taking it as an opportunity to make the name, culture and charm of Okinawa known around Asia."
South China Morning Post
3. Aug 2022.